Raphael Vineyards of North Fork Long Island will be hosting a "bottomless pour" night at George Martin's Strip Steak on Thursday, November 10th during restaurant week. For $14 per person throughout dinner, each person can enjoy both red and white wines in addition to the restaurant week or regular menu.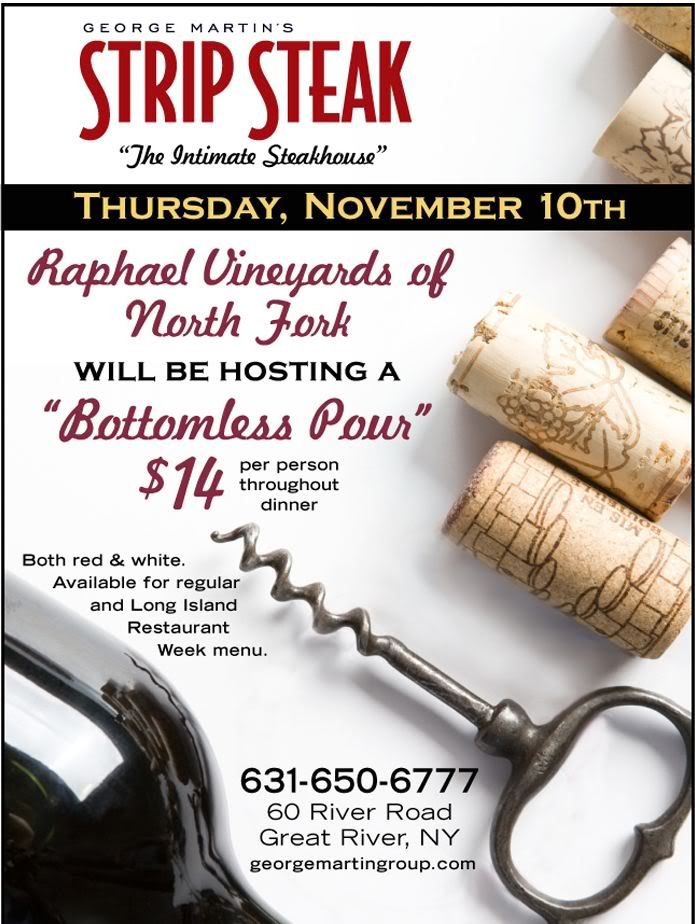 This week, November 7th through November 13th George Martin's Strip Steak will be participating in Long Island's Restaurant Week, featuring three-course meals at some of Long Island's finest restaurants for only $24.95. In addition to the prix-fixe menu, Strip Steak is hosting a "Bottomless Pour" night with Long Island's Raphael Vineyards on Thursday, November 10th.
Whether you're taking advantage of Strip Steak's restaurant week menu or ordering from the everyday favorites, enjoy bottomless pours of both red and white wines from Raphael Vineyards for just $14 per person. Throughout your entire dining experience you can sip on Long Island's best wines while indulging in its best fares.
Raphael Vineyards was born from the vision of owner John Petrocelli, who named the winery in honor of his father. The Petrocelli Family strives to produce Long Island's greatest wines, incorporating both New World advances and Old World traditions. Located on the North Fork of Long Island, the gentle maritime influence of the surrounding water provides a moderate climate allowing their grapes to fully ripen, achieving perfect balance, aroma and flavor. Using sustainable vineyard practices, hand harvesting, spontaneous fermentation and a natural winemaking philosophy, Raphael produces hand-crafted wines that reflect a pure expression of the unique climate and soil of the North Fork.
Strip Steak is located at 60 River Road in Great River, New York. For more information visit GeorgeMartinGroup.com or call 631-650-6777.