65 N. Park Avenue, Rockville Centre, NY 11570
From now through February 10th, enjoy a delicious lunch for only $12.95, plus a complimentary glass of house wine with your meal! There's no better way to treat yourself mid-day!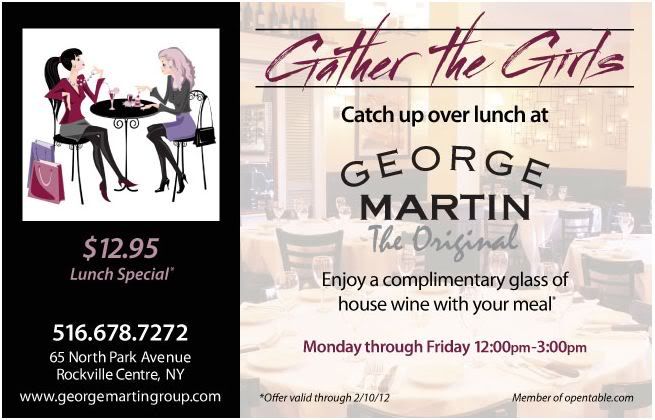 George Martin, The Original has an extensive lunch menu, including soups and appetizers, small salads, entrée salads, burgers & sandwiches, combination platters and specialties. Be sure to try the Polenta Crusted Calamari with charred tomato and corn salsa in a Dijon aioli as an appetizer. It's a must have!
If you're looking for a lighter lunch, you won't be disappointed with the GM Chopped Salad with candied walnuts, golden raisins, roasted peppers, fresh mozzarella, tomatoes, corn in a balsamic vinaigrette! Top that with jumbo shrimp and you've got yourself a healthy, delicious lunch!
If you're on the hungrier side, choose either Ernie's Steak Sandwich with melted mozzarella on toasted garlic bread or the Petite Sirloin Burger on a toasted English muffin bun and your choice of soup or salad. Both are fantastic and filling!