65 N. Park Avenue, Rockville Centre, NY 11570
George Martin's Grillfire Restaurants in Rockville Centre, Merrick and Long Beach are taking part in Long Island's Restaurant Week – in their own ways!
While the rest of Long Island is offering three course meals for $24.95, Grillfire is offering a three course meal for $21.95 through Sunday, November 13th.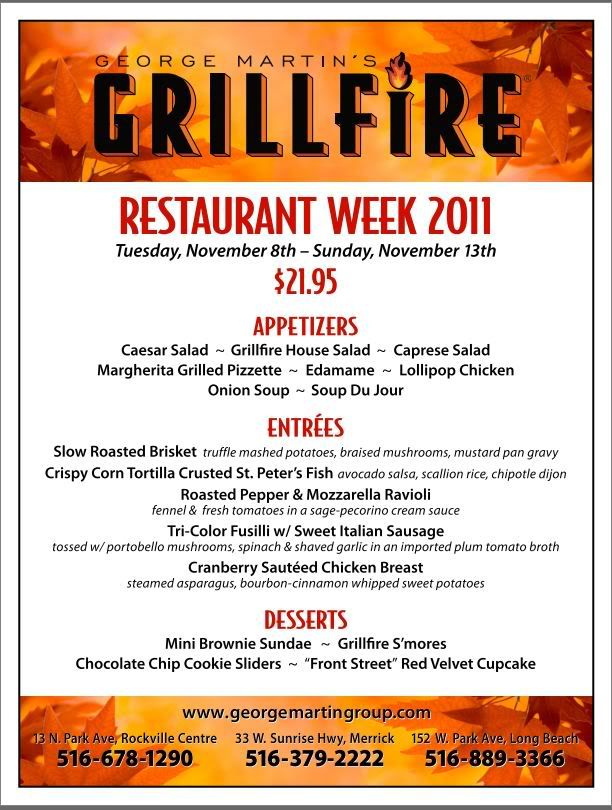 Choose from eight different appetizers to start your meal off, five entrees to fill you up and four desserts to put the icing on the cake!
Appetizer Choices: Cesar salad; Grillfire House Salad; Caprese Salad; Margherita Grilled Pizzette; Edamame; Lollipop Chicken; Onion Soup or the Soup Du Jour.
Entrée Choices: Slow Roasted Brisket with truffle mashed potatoes, braised mushrooms, mustard pan gravy; Crispy Corn Tortilla Crusted St. Peter's Fish with avocado salsa, scallion rice, and chipotle Dijon; Roasted Pepper & Mozzarella Ravioli with fennel and fresh tomatoes in a sage-pecorino cream sauce; Tri-Color Fusilli with Sweet Italian Sausage tossed with Portobello mushrooms, spinach and shaved garlic in an imported plum tomato broth; and Cranberry Sautéed Chicken Breast with steamed asparagus, bourbon-cinnamon whipped sweet potatoes.
Dessert Choices: Mini-Brownie Sundae; Grillfire S'Mores; Chocolate Chip Cookie Sliders and "Front Street" Red Velvet Cupcake.