65 N. Park Avenue, Rockville Centre, NY 11570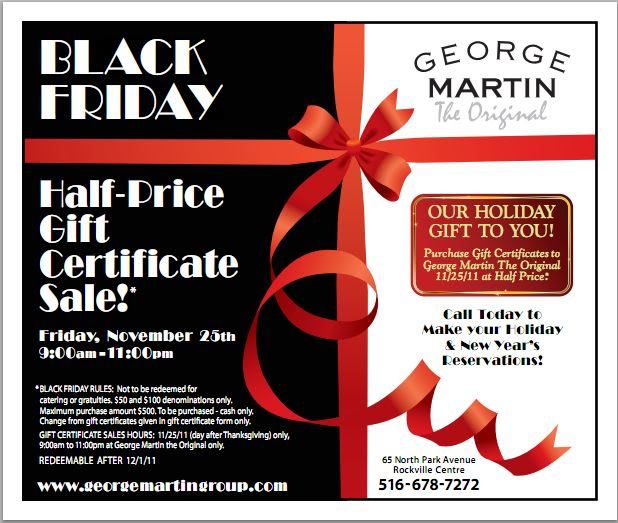 Are you ready for Black Friday shopping? Well, add George Martin The Original on to your list of stops for the day because they are offering 50% off Gift Certificates from 9:00am-11:00pm on Friday, November 25th. Purchase a $100 gift certificate for only $50, a $200 gift certificate for $100, a $500 gift certificate for $250, etc.! Visit GeorgeMartinTheOriginal.com for rules and restrictions.
Join George Martin The Original Monday through Friday from 5-7pm for $5 @ 5 Happy Hour, featuring $5 Svedka Cocktails and $5 appetizers including your choice of Grillfire Japanese "Peanuts"- steamed edamame, garlic and hot chili oil; Fresh mozzarella and asparagus with a balsamic drizzle; Chili pop shrimp in spicy chardonnay aioli; Chicken wings in a honey butter drizzle with chipotle aioli and/or beef short rib taco with queso blanco and sour cream.
Are you looking for the perfect date night location? Dine at George Martin The Original on Wednesday nights for Wine Down Wednesday's featuring select bottles of wine for $20!