George Martin Group
65 N. Park Avenue, Rockville Centre, NY 11570
www.georgemartingroup.com 1-516-678-7272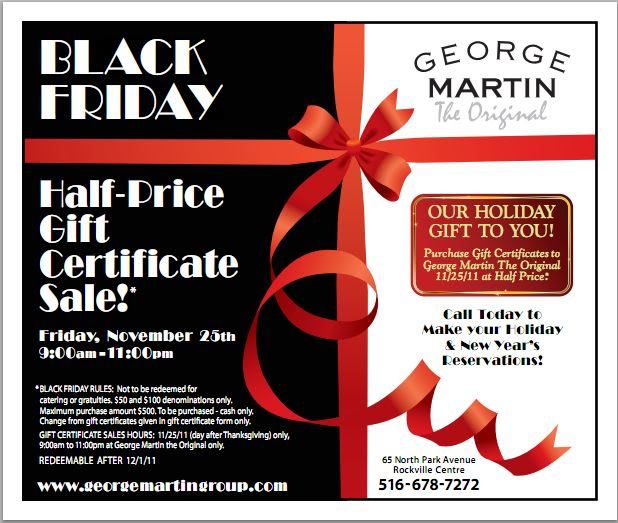 Are you ready for Black Friday shopping? Well, add
George Martin The Original
on to your list of stops for the day because they are offering 50% off Gift Certificates from 9:00am-11:00pm on Friday, November 25
th
. Purchase a $100 gift certificate for only $50, a $200 gift certificate for $100, a $500 gift certificate for $250, etc.! Visit
GeorgeMartinTheOriginal.com
for rules and restrictions.
George Martin's Strip Steak is offering nightly specials throughout the holiday season! Enjoy cocktails, dinner and liquid nitrogen specialty cocktails and desserts 7 nights a week at Strip Steak.
Liquid nitrogen, a Strip Steak exclusive in the Long Island area, is new to the menu. To create a cocktail,
liquid nitrogen
is added to a mixing bowl of all fresh ingredients, including fresh fruit, along with liquor. The liquid nitrogen freezes the ingredients, producing a unique, all natural, frozen cocktail with no artificial components.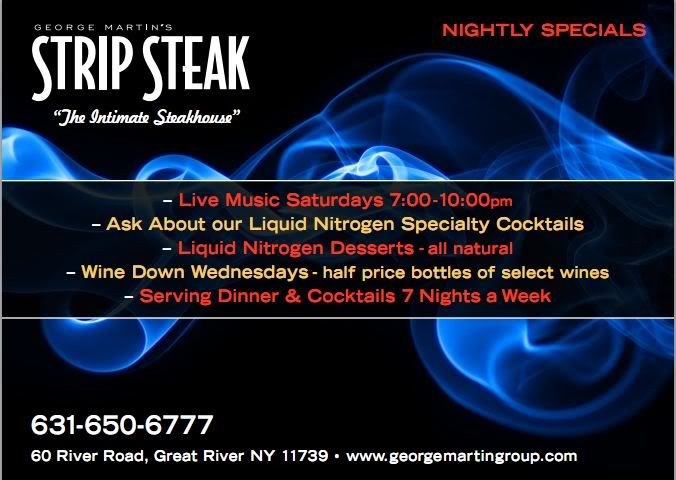 Look for different flavors of liquid nitrogen ice cream offered on the
Strip Steak
dessert menu! Combining liquid nitrogen with one of Strip Steak's famous desserts, such as their banana pie or brownie, and the cream mixture, you are left with incredibly smooth ice cream. The silky texture isn't the only plus! Liquid nitrogen dessert has 40% less fat than the average dessert due to the all-natural ingredients used and the exclusion of egg yolk!
Don't forget about Wine Down Wednesday's at Strip Steak and The Original. At Strip Steak, enjoy select bottles of wine at half price! The Original features select bottles of wine for $20! Wednesday's can now be the perfect date night for you and your loved one!