65 N. Park Avenue, Rockville Centre, NY 11570
George Martin the Original is now offering a three course surf & turf special! On Saturday, July 30th enjoy enjoy some of New York's award winning cuisine prepared by the George Martin Group in the heart of Rockville Centre. For $38 per person, you will eat like a king or queen and indulge in some of the freshest prepared foods on Long Island. The first course will entail a walnut salad with golden raisins, roasted peppers, fresh mozzarella, tomatoes, corn and balsamic vinaigrette. Next, Surf & Turf entree featuring a plate of dueling 6oz grilled lobster tail and filet mignon, baby portobello, summer corn ragout and bearnaise sauce. George Martin the Original Brownie Sundae completes the meal with vanilla Haagen-Dazs ice scream, whipped cream, M&M's and warm chocolate ganache.
Looking for these types of deals more often? George Martin the Original restaurant offers a three-course prix fixe menu Sunday - Thursday for $29.95 throughout the summer. The menu changes monthly, but always offer a generous selection of decadent choices within each course.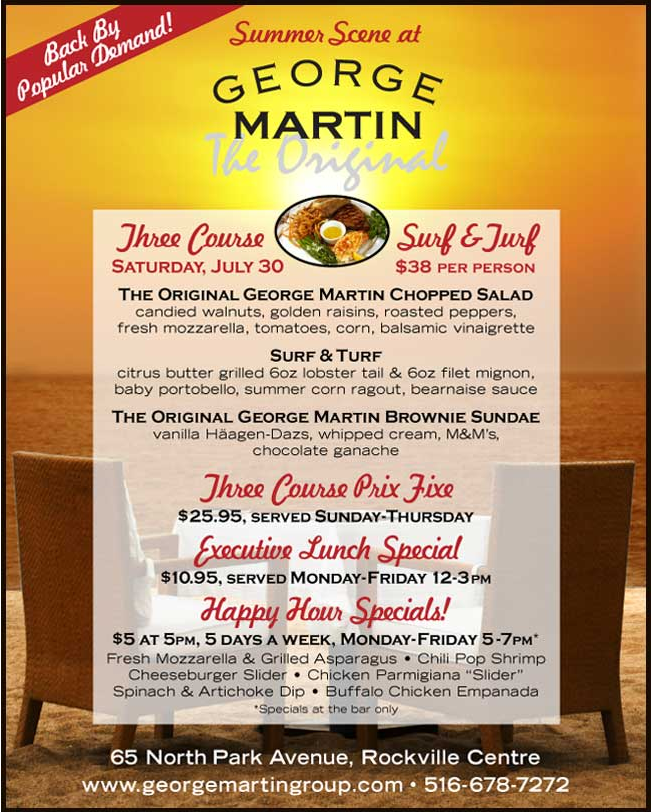 Looking where to go after a long day at work? Join us for happy hour with specials like: $5 at 5pm, 5 days a week. Choose from mozzarella with grilled asparagus, chili pop shrimp, cheeseburger sliders, chicken parmigiana sliders, spinach and artichoke dip or buffalo chicken empanadas. Treat yourself on your lunch hour with the George Martin Executive Lunch Special served Monday - Friday from 12-3pm for $10.95. The sophisticated ambiance is the perfect spot to dine with a client or co-worker.
Whether you're looking for a three-course mea
l, happy hour specials or delicious lunch deals, George Martin the Original has a
plate or drink waiting for you. The service doesn't end there. "Wine Down Wednesday's" highlighting select bottles of wine for $20 and other upcoming event's, promotions and deals can be found by visiting the George Martin Group Facebook page or by following the group on twitter.
Visit the Geoge Martin the Original Website.